Eight months on I am still feeling the impact of Lisbon's vast Web Summit, where more than 70,000 eager digital devotees gathered to be inspired, invigorated and juiced up about the future.
My days at the Web Summit had been spent looking into shiny new worlds.
I'm told "this is where the future goes to be born", (achingly overhyped). Bloomberg calls it "Davos for geeks". I listened intently to dynamic presenters promising transformational technology, producing endless data for an analytics paradise and was showered with optimism. To paraphrase L P Hartley's "The Go-Between", the future is another country: they do things differently there.
But in a backstreet, tiny former chapel, decorated in Portuguese hand-painted tiles, I found something that inspired me more.
I was listening to a well-known Fado singer, who expressed the emotion of the genre using his entire body. In this intimate room, lit only with candles, and no microphone – this singer rendered the yearning "saudade", the untranslatable emotion at the heart of traditional Fado music. Sadness, melancholy, and longing, but also happiness and love – a whole range of sentiments are expressed in Portugal's folk music. This was way more than singing and playing the guitar; it was telling a story of emotions. And I loved it. It was the sheer emotional rollercoaster of the Fado singer that really got to me, not the big data, the tightly, well-focused algorithms or the hyped-up insights.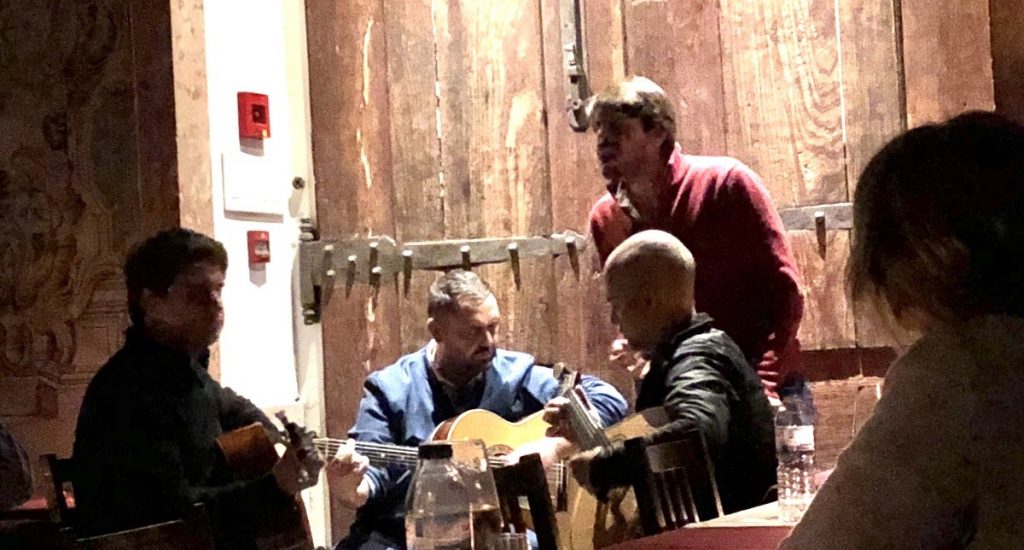 So as an industry should we focus a little less on science and a little more on feelings?
Have we become too obsessed with data insight and media channels at the expense of emotion? Not according to a recent article in Marketing Week about Unilever seeing an improved ROI by focusing on data-driven marketing and a programmatic approach to media buying. CEO Alan Jope said, "Our brand communications are led by a deliberate and data-driven audience segmentation and programmatic approach to media buying."Jope will know his segmented metrics better than anyone – but would Levi's have rapidly propelled its sales of Levi's 501 jeans by 800% using a data-driven approach rather than the iconic, "I heard it through the grapevine"? Well, that was decades ago – technology has changed everything, so comparisons are meaningless.
But authentic communications will always require an emotional connection.
Brand thinking should be based on stories and experiences, applying the power of emotion to make us feel and act differently. Jason Heller, consulting firm McKinsey's global lead of digital marketing operations and technology is quoted on forbes.com: "There is this bifurcated world where you have some chief marketing officers who have this religious zealousness over protecting the soul of creativity in their brand and feel like data has no role in it whatsoever. And then there's this other group of CMOs who feel like data is enhancing creativity." I've not met many CMOs who ignore data insight, but the point is well made. And I've met a few CMOs who believe that an obsessive culture of measurement damages creativity. I liked GoCompare's Zoe Harris' comment: "A poor story can't be helped in any channel, no matter the spend that's put behind it" (Marketing Week).
McKinsey's recent report "The Perfect Union: Unlocking the Next Wave of Growth by Unifying Creativity and Analytics", was carried out with US Association of National Advertisers. In my opinion, this excellent report is bang on and indeed creatives need to cosy up to tech a lot more for the benefit of their clients. McKinsey also surveyed companies on the American S&P 500. Businesses that have worked hard to collaborate data and creativity grew revenue by an average of 10%, compared to 5% for those businesses that did not.
Quality insight, together with great creative and experience are what clients look for to generate powerful marketing campaigns.
At ThisCity we talk about a rough guide being 45% insight and data, 45% creative and 10% magic. With a close relationship between creative teams and analysts, data can drive better creative, which in turn can increase marketing performance. But agencies need the confidence of their clients to allow time and budget for the 10% magic, as well as insight. "Finger-Lickin' Good". "Just Do It". "Because You're Worth It". "Every Little Helps" and Wieden+Kennedy's recent and brilliant line for Tinder: "Single, not sorry".
There's plenty of Fado in those.